This post was created in partnership with America's Farmers. All opinions are my own.
Whew, just back from Atlanta and boy am I worn out. I think I have extravagance hangover. That comes from staying at the Ritz and being around so many contemporaries who are better dressed than you. And Atlanta itself. People there are GORGEOUS. Seriously, being in Buckhead was like being in a constant music video. It was very surreal. I found myself literally shocked by some of what the woman were wearing. And then I was shocked by me being shocked.
It's official, I have turned into a Midwesterner.
And I am totally cool with that.

After all, don't tell the coasters who refer us to the flyovers, but it's pretty awesome living in the middle of nowhere some times. I get to have a gorgeous cheap house; my girls go to great schools; and college town mix of people keep it interesting. But most of all, the food, the glorious food. Farm to table isn't just a catchphrase here. The people who grow the food we eat are, if not our neighbors, just down the road.
It makes you appreciate the work they do so much more when you not only eat the food but know the people behind it. Some of my views on farming and food have not changed, but most have been affected by knowing the people who are working to ensure that the tradition of American farming continues. When I read about Missouri families like the Matthews who grown soybeans and corn, my personal views on consumption of both (we don't eat soy or corn) share room with the bigger picture of what part they play in the economy of the U.S. You can check out more stories on the America's Farmers site.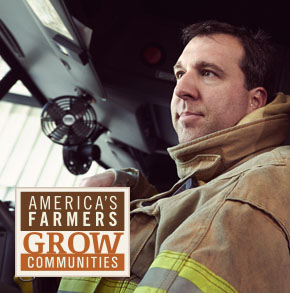 And the food? It tastes so much better when it comes from a local farm.
Check out my Pinterest board of recipes to make with farm food!
Follow Kate Canterbury's board America's Farm Food on Pinterest.